Saying good-bye to a beloved family pet is one of the hardest things you will ever have to do. We look at life from a human perspective and want them to stay with us as long as possible. However, if your pet is suffering or enduring a poor quality of life, letting them go can be the kindest decision you make.
Whether it was sudden or anticipated, the loss of a pet is a highly emotional time. We're here to help. We now have a Certified Pet Bereavement Counselor on staff who can help you in the bereavement process. Our counselor can offer comfort to pet parents dealing with anticipatory grief (pets given a poor health prognosis) as well as those who have already lost their beloved family member. If you or someone you know is dealing with the loss of a cherished pet, please call us or contact our counselor by email at fstout@irvingpethospital.com. Sessions are held by phone, email or in person, whatever is most comfortable for you. We offer a safe space to discuss where you are in your individual grief process, and to help determine what areas may be keeping you from moving forward.
After They're Gone – the Stages of Grief
When your pet is gone, it's important to remember all the good times and all the joy you brought into each other's lives. Take care of yourself during this sad time and remember thatgrief is a normal response to loss. It's important to rest during these initial stages, and to give yourself lots of self-care.
The grief process is highly individual, and though there is some scientific consensus about the stages that people go through while grieving, everyone goes through them in their own way and order, and on their own timeline.
Swiss-American psychiatrist Elisabeth Kübler-Ross in 1969 proposed the now famous five stages of grief in dealing with the loss of a loved one: denial, anger, bargaining, depression, and acceptance. The website, Recover from Grief further describes a 7-step process:
Shock + denial
Pain + guilt
Anger + bargaining
Depression, reflection + loneliness
the upward turn
Reconstruction + working through
Acceptance + hope
Both schools of thought agree that grief is not a linear process, and all of the stages can be felt at any time. It's important to give yourself time to fully experience each stage and all of the emotions involved. It may help you to understand that what you are feeling is normal and quite universal, and not to rush yourself or judge yourself if you get stuck at any stage of the process. This is what our counselor is trained to help you acknowledge and work through, while honoring your feelings and guiding you toward a fulfilling future. Our goal with every session will be to work through the areas that cause pain toward acceptance of the loss and healing.
Your Quiet Home
The silence in your home after the death of a pet will be excruciatingly loud. It is common to replay the last moments of your pet's life in your mind or see your pet in your dreams. You may think you see them out of the corner of your eye or hear them in the next room. This is all common and part of the grieving process.
Putting your friend's things away is an important part of grieving, but all in good time. You may find yourself putting out food and fluffing up your pet's bed for them, or continuing to do other daily routines, long after your beloved has gone. Try not to feel distressed by this, and do not feel the need to put things away right away – give yourself time to be ready. Together, we can create a plan and location for these items, as a further exploration of the healing process.
The relationship you shared with your pet was special. If people tell you that you should not be grieving for the loss of an animal, remember grief is normal and the relationship you shared needs to be honored and mourned. There will be ups and downs in the process of grieving, so don't be surprised if you start to feel better, and then feel as if a wave has hit you.
Time may not heal this wound, but it will make the gaps between waves of grief longer and longer. You will always love and miss this special member of your family, but you can go on and live a fulfilling life while keeping their memory close. Eventually, you'll even talk about your pet and smile at the happy memories you have. That is what your friend would have wanted for you.
Honor Your Pet's Memory
Sometimes it feels better to do something to memorialize and honor your pet's memory. Here are a few ideas:
Make a donation to an animal sanctuary or shelter in your pet's honor.
Plant rosemary in your garden for remembrance or create a separate memorial garden.
Make a collage with all the photos you have of your friend. Add photos from magazines that are meaningful to your relationship, and add stickers, markers, etc. – be creative! Hang it in a special place or keep it just for you.
Repurpose collars into key chains or glue one around a flowerpot; use food bowls as planters so you'll think of your pet every time you use them.
Have your favorite photo printed and enlarged or find an artist who can use it to make a painting of your pet.
Carry something special that reminds you of your friend, to take out and hold when you need a moment of connection.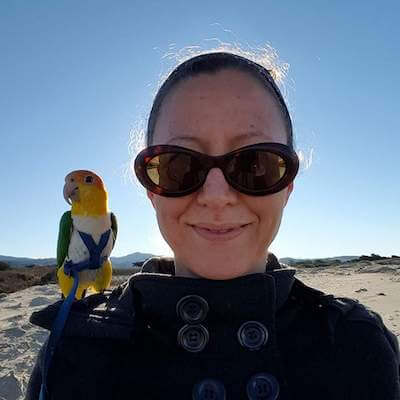 Hi, I'm Frappa, Dip. CMA PBC, and I am very excited to offer my bereavement counseling services to our clients.
I've worked as a vet assistant at IPH for more than 4 years, and one of the most important and rewarding experiences for me has been working with clients who were facing the loss of a pet. This is a very intense, difficult, and emotional time, and I have felt so honored to have been there and shared this moment with you. I also noticed that we would share a very special connection, long after that experience, and it's something that I have cherished and appreciated so much. As such, I was so excited when I was offered the opportunity to study to become a certified Pet Bereavement Counselor. I completed the certificate through the Centre of Excellence, an online training program based in the United Kingdom but recognized worldwide.
The therapy process will be determined by each individual and where you are in your journey. I am here for you, as a compassionate ear to help you through this time and whatever is most difficult to overcome. I will be available for phone conversations, zoom meetings or in-person sessions, and will plan to offer group meetings in the near future. I also have an amazing support system of the city's finest veterinary doctors at Irving Pet Hospital, if there are medical questions that come up during the healing process.