Telemedicine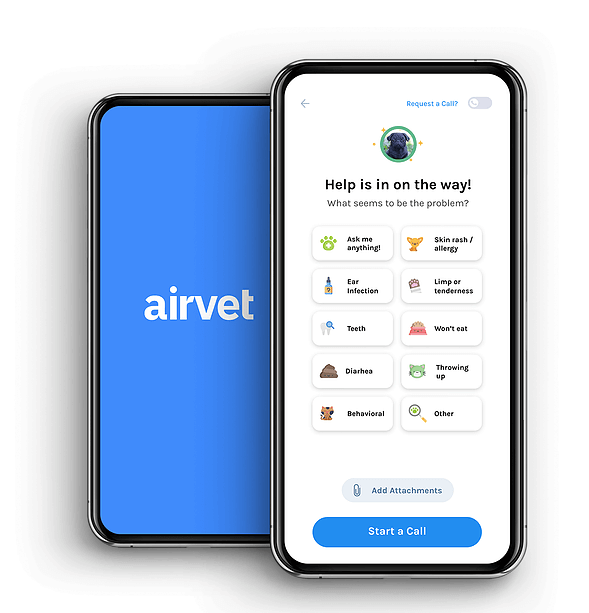 Meet Airvet – pet care anytime, anywhere.
With Airvet it's easy to connect with a veterinarian on-demand while you're at home or on-the-go. You can use Airvet for general medical concerns, behavioral questions, follow-ups and check-ins, or simply to determine if an office visit is necessary.

What is Airvet?
Airvet is the first telehealth platform designed to offer pet parents like you continuity of care between you and your veterinarian. With Airvet, you can connect with your vet or one of our global Airvets within seconds to get answers, do follow-ups, and sometimes just to get the reassurance you need during those "I don't know if I should be freaking out or not" moments.
When can you use Airvet?
General health/medical questions both big and small (there's no judgement here!)
When you're wondering if a certain issue is worth an in-person visit or not
Behavioral questions or concerns
Basic follow-ups with your veterinarian after an in-person visit or post-surgery check up
Our veterinarians are only available on Airvet during our business hours:
Monday – Friday from 8:30 am to 4 pm


Your friends at Irving Pet Hospital look forward to continuing to bring you the latest innovation in veterinary technology to ensure we are always providing the best and most accessible care to you and your furry family. Download the Airvet app today to get started!