Newsletter
The veterinarians and staff at the Irving Pet Hospital are pleased to provide you with an online newsletter. This fun and fact-filled newsletter is updated on a regular basis.
Included in the newsletter are articles pertaining to pet care, information on our animal hospital, as well as news on the latest trends and discoveries in veterinary medicine.
Please enjoy the newsletter!
Current Newsletter Topics
Therapy Dogs Improve Lives of Dementia Patients
Dementia. The diagnosis is most often devastating. As the condition progresses, your loved one will become more forgetful, less able to effectively communicate (if at all), and unable to perform simple day-to-day tasks. You'll begin to feel hopeless and helpless when it comes to improving the person's mental health and quality of life.
Those in the healthcare field, working in nursing homes and assisted living environments, witness the struggle firsthand. Many report patients who won't even make eye contact with them or their family members. But, for some reason, visitors with wagging tails seem to hold their attention. Dogs have long been used as therapeutic aides in hospital environments, even if the therapy they're providing is as simple as a smile. Programs are now being geared specifically toward Alzheimer and dementia patients in an effort to reach them.
"The best way to reach an Alzheimer's patient is through music, children or animals," said Diane Dzambo, the director of People & Animals Who Serve (P.A.W.S.) in a Capital Gazette article. "The patients become lucid. The pets provide a connection to the outside world."
Like other programs worldwide, P.A.W.S consists of volunteers and their dogs who visit senior communities, assisted living residences, senior activity centers, adult day care centers, and more.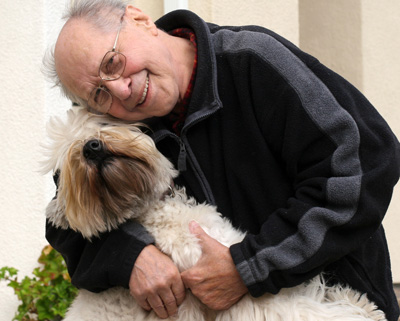 The Benefits of Animal Therapy
Mara M. Baun, DNSc, a coordinator of the nursing program at the University of Texas Health Sciences Center has been researching the benefits of therapy dogs on dementia patients for more than a decade. She has found that one-on-one and group settings where a dog is present increase interactive behaviors in those suffering from dementia.
"Even people with Alzheimer's recognize a dog and they see that the dog is someone new in their environment," she said in a medical article. "I think they see it as someone with whom they can interact without any worry."
Therapy dogs have also been shown to:
• Lessen agitation – This common symptom of dementia is reduced when a therapy dog is around
• Increase physical activity – Petting, brushing, or playing with a dog adds to patient mobility
• Increase appetites - Dementia patients have been shown to eat more following a dog's visit
• Provide enjoyment – Depression is common among dementia and Alzheimer patients, but therapy dogs have
been shown to lessen such feelings
Dementia Assistance Dogs
In the U.S. alone, approximately 15% of citizens 65 years and older will suffer from some form of dementia and another 10% from Alzheimer's disease – that's 5.5 million people. More and more therapy dog programs are popping up, not just geared at providing companionship and joy, but also for assisting with everyday living. Just as guide dogs for the blind are trained to help their handlers live better lives, dementia assistance dogs are now being trained to help patients in the early stages of the condition.
"Research has shown that an individual who walks with a dog is more likely to be engaged in conversation by other people along the way," states a Psychology Today article. "An important fact is that such interactions are very predictable… These positive and predictable social interactions reduce the sense of loneliness and isolation experienced by people with dementia."
Dementia assistance dogs are trained to guide people through the day, reminding handlers when to eat, how to get back home, and more.
Sources: Alzheimer's Project, Capital Gazette, Everyday Health, & Psychology Today
Your Dog's Perception of Time
Owning a dog brings many simple joys and often teaches you valuable lessons about life. However, it also comes with its sorrow. Looking into a young puppy's eyes, you are aware that you will watch that animal age rapidly before your own eyes. That little puppy will quickly blossom into a nearly-full-grown dog and before you know it, you'll see gray hairs on his snout. To pet parents, a dog's short lifespan just doesn't seem fair.
One Dog Year
It is common to hear that one "dog year" is roughly equivalent to seven human years. Although that one year may not feel like seven to your pet, he is getting more time out of the same 365 days as you. This is because dogs take in visual information at least 25-percent faster than humans, so they are essentially experiencing more. Rapid perception is an evolutionary characteristic that allows dogs and other animals to respond to threats and catch prey more efficiently as a means of survival in the wild.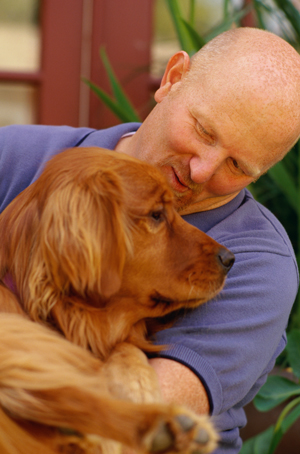 While humans have an episodic memory that allows them to recall detailed events from the past, dogs don't think back or look ahead. Instead, they develop associations and learn as they go. You may assume your dog has memories because he sits every time you tell him, but he doesn't "know how he knows" to sit, he just does it. The same is true of familiar places, scents, and experiences. Your dog can't recall what happened at his last visit to the veterinarian's office, but he can associate the smells and surroundings with either a pleasurable or unpleasant past experience without understanding what his opinion is based off of. Dogs are also able to gauge time based on cues from their own bodies, daylight, and so on. This is why your pet may wake or expect to be fed at the same time each day. Dogs can tell the difference between minutes and several hours, as is evident when you return from a day at work. But, their perception is based more on the last time they were fed or taken out rather than on memory.
Cherish the Moments
When your pooch nears his final days, you may think he's looking back on his life and wishing he could swim in the lake or chase cats like he once did. You may be worried that he is aware of his shortened time on this earth. But, dogs experience time much differently than we do. Cherish the moments you do have with your pooch and try to understand that his lifespan isn't something that causes him grief.
Source: Scientific American
Traveling Outside the US with Your Pets
For anyone traveling outside the United States with pets:
Call the appropriate embassy in Washington to confirm the entry requirements for your pet(s). Some embassies provide forms printed in English and in the host language for your veterinarian to complete. Some countries do not permit importation, or have long quarantine requirements.
Check the requirements to see how close to departure the required veterinary examination, vaccinations and tests must be completed.
Arrange with your veterinarian for required vaccinations and certificates.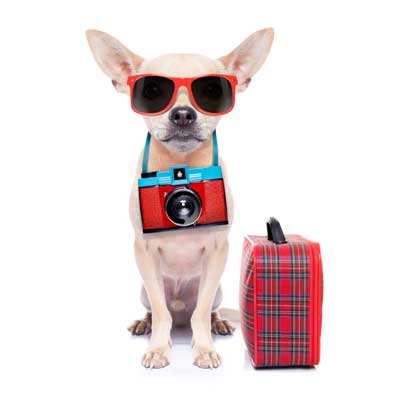 Certification requirements vary from country to country. Some countries simply require the examining veterinarian to be licensed in the state of origin. In this case, the veterinarian's examination statement does not need USDA certification. Some countries accept a standard letterhead health certificate and rabies certificate issued by a licensed veterinarian and endorsed by the USDA. Other countries require that your pet be examined by a federally accredited veterinarian and that a United States Interstate and International Certificate for Health Examination for Small Animals (AHPIS Form 7001) be issued by the examining veterinarian and endorsed by the USDA. (Since August 1994, only a federally accredited veterinarian can sign this form.) Call the embassy to determine the exact requirements before making an appointment with a veterinarian. Also, check the airline, as there have been cases where a country does not require a certification but the airline does.
The timetable for obtaining examination statements and certifications can be very tight. Plan well in advance to be sure all paperwork is completed in time for your departure date. You may send your paperwork by mail or courier, along with a rabies certificate, the appropriate fee for service and a self-addressed stamped envelope or a pre-paid Federal Express envelope (if you are short of time) for return to you. Make sure that the veterinarian's name is legible and include a contact person with a daytime telephone number.
If you are planning to travel outside the US with your pet, you need to contact your local Veterinary Services office.
If you have a relatively uncomplicated plane flight, taking your pet along with you might be the best solution. Even if your pet is on the same flight as you, the appropriate documentation is still necessary. Ask your travel agent or call the airlines for price information.
If you are planning to ship your pet, reserve air space as early as possible. Be sure to schedule your pet's arrival on a weekday and not on a weekend, as it is usually necessary for animals to be cleared by a veterinarian or health inspector upon arrival.
Provide a sturdy, leak-proof crate (lined with absorbent material such as newspaper) that is large enough for the animal to stand, lie down, or turn around, but not so large that the animal can be battered around in rough weather. Most pet stores sell shipping crates in various sizes.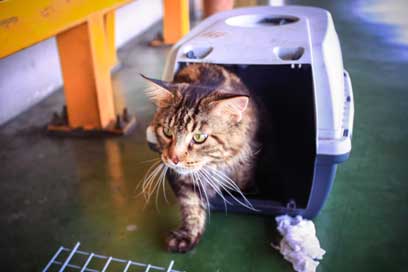 SHIPPING OF PETS CHECKLIST
Your pet should become acclimated to the crate by having practice sessions. Be sure the pet has a comfortable pad to lie on and a few familiar toys. A leash should also be included inside the crate.
Even if your pet is microchipped, put identification tags that include an emergency phone number on your pet's collar.
Print your name and destination address clearly on the shipping crate. Include your pet's name so that attendants can talk to him. If your pet has special needs or habits (bites or growls at strangers) include that information. You might want to list this information in other languages as well. In case your pet gets lost or needs to be identified, you should carry a photo with you.
Feed your pet a very light meal about six hours before shipping. Give water up until two hours before departure. A water dish attached to the the crate should be provided. The water dish should be conveniently located so an attendant can provide water at stopovers without being bitten. Send dry food along if the trip is long. If you send canned food, fasten an opener and dish to the crate in a cloth or mesh bag with feeding instructions clearly marked on the crate.
Do not tranquilize your pet without your veterinarian's approval. A tranquilized pet can injure himself more easily than a non-tranquilized animal.
Exercise your pet just before shipping.
If your pet is traveling with you, make sure you have a decent amount of time between connecting flights. This way, it's more likely that he is going to be transfered to your connecting flight.
If there is a delay, the airline may kennel the pets. Some airlines have kennel facilities while other do not. State on your airway bill that your animal is to be taken to the animal port if there is a delay or stopover.
Arrange to have your pet picked up immediately upon arrival. Airline facilities for pets may be limited or nonexistent.
Ten Common Signs Of Cancer In Small Animals
Cancer in its early stages can often be treated. If your pet shows any of the symptoms listed below, we recommend that you call the animal hospital to make an appointment. Early diagnosis and treatment is the best way to treat any disorder in pets.
Abnormal swellings that persist or continue to grow
Sores that do not heal
Weight loss
Loss of appetitie
Bleeding or discharge from any body opening
Offensive odor
Difficulty eating or swallowing
Hesitation to exercise or loss of stamina
Persistent lameness or stiffness
Difficulty breathing, urinating, or defecating
Some Must-Have Mobile Apps for Pet Parents
There's an app for everything and pet-related needs and topics are no different. Gone are the days when Google was the sole provider of dog and cat information for pet parents on the go. Apps keep convenient information and tools a finger swipe away – and for minimal cost. Pet parents can download everything from pet-friendly park locators to apps that enable live webcam streaming from your home computer!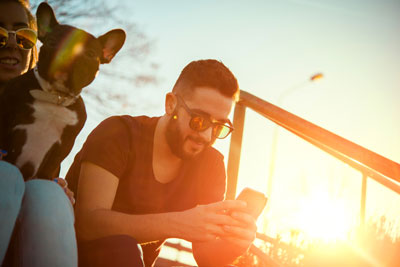 Some Must-Have Apps for 2016
1. Pet First Aid by American Red Cross – You should always know where to take your pet in the case of an emergency, but some situations call for fast action. With this free app for iPhone, study up on pet first aid through interactive quizzes and videos, or consult step-by-step instructions for the most common pet emergencies when you need them most.
2. PupTox – For all the times you find yourself standing in the kitchen with a fistful of food scraps, wondering if any of them are safe to give to the set of pleading eyes staring up at you, PupTox is the solution. This 99-cent app offers an on-hand list of more than 250 things that are toxic to dogs and cats. Forget having to use Google all the time to see what your pet can't ingest, this app keeps all the pet dangers neatly categorized and always available.
3. Pet Diary – Pet Diary allows you to keep track of all aspects of your pet's life in one easy-to-use application. Keep track of Fido's birthday and medications, or stay on top of Whiskers' weight and overall attitude. Of course, you can also make note of fun adventures you share, new foods your pet tries, and more – for free!
4. Dog Park Finder Plus – If you're often on the go with your pup and want to know where the nearest dog parks are in any locale, this is the app for you. Type in your zip and see thousands of dog parks and dog-friendly restaurants nationwide. The app even fills you in on whether or not there is a park fee, breed restrictions, and more. For $1.99 you get the complete "plus" version, or try the basic Dog Park Finder for free.
5. MapMyDogWalk – For the fit pet parents, this app is similar to MapMyRun. For no cost, you can keep track of how many calories you burn during your daily outing, the distance you cover, and even your speed and pace. MapMyDogWalk uses GPS to create an exact map of wherever your adventures take you.
6. BringFido – Another must-have for on the go pet parents, BringFido is the best (and most trusted) source for locating pet-friendly accommodations. The free app can also be used to find nearby dog parks, and pet-friendly trails, beaches, and more.
7. iCam – At $4.99 this app may be a splurge, but it's a much cheaper alternative than purchasing a pet video conferencing gadget. This app allows you to remotely access your home computer's webcam, gaining a sneak peek into what Spot does all day via video streaming. Simply download iCam to your computer at no cost and then purchase the accompanying app for your smartphone. You can even add cameras inside and outside of your home to create a true surveillance system!
8. Perfect Dog & Purrfect Cat Free Ultimate Breed Guides – Whether you simply want to expand your knowledge of dog and cat breeds or you want a handy reference for identifying unique pets you encounter, either of these free apps are excellent. Purrfect Cat introduces you to more than 90 popular and rare feline breeds, while Perfect Dog contains more than 3,000 images and information on more than 510 unique canines.
9. BarkBuddy – From the makers of Barkbox, this free app makes pet adoption as easy as online dating. Browse dozens of nearby pups in need of forever homes and share them with your online followers. The more you browse, the more the app learns what kind of dog you're hoping to find – and the better your chances of finding true puppy love.
10. iClicker – Training just got easier with the free iClicker app! Minimize the amount of bulk in your pocket by downloading the iClicker app to use while training your cat or dog. Since it's in your phone, you'll almost always have it handy. This no-cost app comes with training tutorials and a supply of additional fun and distracting noises for your pet.